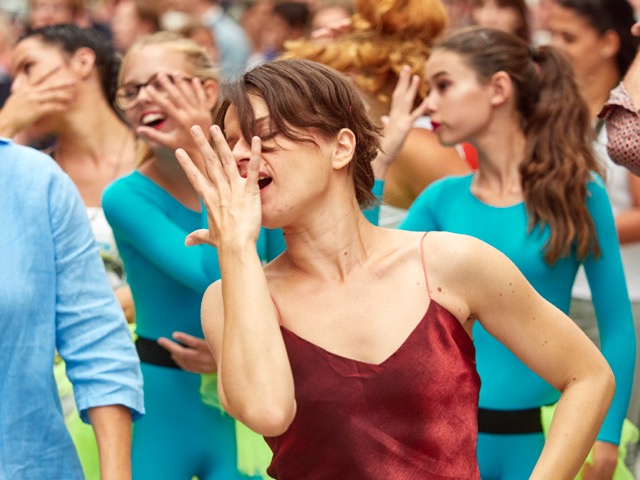 Press release 19 February 2020
Artist Marinella Senatore's performance presented at the Serlachius Museums in Finland
Serlachius Museums organise on Sunday 8 March 2020 a theme day focused on the exhibition Quest for Happiness – Italian Art Now. The day consists of performance art, a public guided tour, a lecture as well as delicacies of the Italian cuisine at Restaurant Gösta.
Artist Marinella Senatore has designed a performance, which is realised as a part of the world tour of her School of Narrative Dance. Choreographer Maria Fonzino directs the performance which is created in the local context and which engages local participants. The performance is recorded.
Following the red line of the quest for happiness, the group exhibition brings together 14 among the most important artists or artist groups from Italy. For many of them, creativity and energy have been the answer to the economic and political crisis that has afflicted Italy for over a decade. The exhibition shows a wide and fresh panorama of the Italian contemporary art production.
The artists of the exhibition are Yuri Ancarani, Silvia Camporesi, Loris Cecchini, Federica Di Carlo, Goldschmied & Chiari, Francesco Jodice, Marzia Migliora, Matteo Montani, Okkult Motion Picture (Alessandro Scali & Marco Calabrese), Federico Pietrella, Pietro Ruffo, Marinella Senatore, Federico Solmi and ZimmerFrei.
The curators of the exhibition are Maria Stella Bottai, Lorella Scacco and Pirjo Immonen.
Quest for Happiness –Italian Art Now runs at Serlachius Museum Gösta until 29 March 2020.
Programme on 8 March 2020
1 pm             Performance, Marinella Senatore and Maria Fonzino: School of Narrative Dance 
2.30 pm        Public guided tour in the exhibition Quest for Happiness                                        
4 pm             Outi Pinomaa gives a lecture on the use of Italian in the terminology of art, music and gastronomy in Finnish language.
11 am–5 pm The museum's Restaurant Gösta serves delicacies of Italian cuisine                                          
The Serlachius Museums are open:
in the winter season 1 September–31 May, from Tuesday to Sunday 11 am–6 pm
in the summer season 1 June–31 August, daily 11 am–6 pm
Visiting addresses:
Serlachius Museum Gösta, Joenniementie 47, 35800 Mänttä, Finland
Serlachius Museum Gustaf, R. Erik Serlachiuksen katu 2, 35800 Mänttä, Finland
Additional information and image requests:
Susanna Yläjärvi, Information Officer of Serlachius Museums, +358 (0)50 560 0156, susanna.ylajarvi@serlachius.fi