What is Serlachius?
The Serlachius Museums offer a meeting place for art and stories, and people who value their high-quality. There are two Serlachius Museums: Art Museum Gösta as well as Museum Gustaf, which tells the stories of history. Our heart and soul consist of art, architecture, history, excellent food, magnificent lakeside nature and hearty service.  Welcome!
VISIT US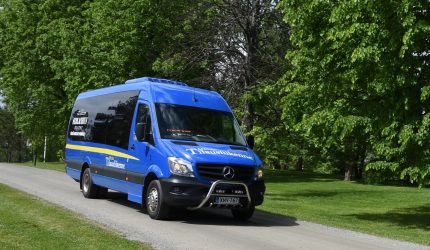 Welcome to Serlachius!
Hop on the Serlachius Art Express in Tampere and come directly to Serlachius Museums! Find out also other ways to arrive.
Pearl of the month
Akseli Gallen-Kallela was one of the artists who built Finnish national identity by depicting original Finns in his painting Rustic Life, 1887.
Lorna Simpson: Haze
Lorna Simpson is one of the most prominent figures of contemporary art in America. Her exhibition Haze is on show at Serlachius Museum Gösta 13 May–8 Oct 2023.
Current news
Now you may get acquainted withHelene Schjerfbeck's hitherto unnoticed early work which she painted at the age of just 17.
The Art Sauna
A new architectonic perspective into the concept of Finnish sauna, Art Sauna stands on the shore of Serlachius Museum Gösta.
Sustainability at Our Museums
Responsibility of the environment is a matter of the heart for Serlachius Museums. We have been awarded ISO 14001 environmental certificate and Sustainable Travel Finland label by Visit Finland.
Rent a city bike at Vilppula railway station
Hop on a train, on the way, use the app to book your Donkey Republic city bike. Pick it up at Vilppula railway station. Pedal away to enjoy Mänttä-Vilppula experiences!
Serlachius' sound stories
Sound stories provide interesting background information on the history of the Serlachius Museums, the mill owner family, architecture and a selection of artworks as well as current exhibitions.
Artworks on the web
Browse selected art pieces from Serlachius Collection at the site Taide.art.
SEE & DO