Welcome to Serlachius!
In Mänttä, Serlachius offer a meeting place for art and stories, and people who value their high-quality. Two museums, in Joenniemi Manor and in the former head office of the Serlachius Company, show works from Serlachius' substantial art collection and temporary exhibitions of contemporary art. The story of the family of paper barons and Finnish paper industry is ever intriguing!


Serlachius is a sustainable cultural attraction amid most beautiful Finnish lakeside nature. Beside art, history and architecture our guests enjoy culinary and sauna experiences as well as heartfelt service – year round.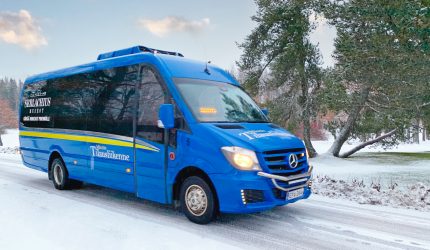 How to reach us?
Hop on the Serlachius Art Express in Tampere and come directly to Serlachius Museums! Find out also other ways to arrive.
Exhibitions 2024
Serlachius Museums exhibitions 2024: nothing ordinary!
New Publication!
Presenting the philosophy and architecture behind Serlachius Art Sauna, a new publication connects it to Finnish sauna culture.
Sculpture park at Museum Gösta
Get acquainted with the works of Gösta's sculpture park. See short presentations on selected art pieces.
Pearl of the month
Pearl of the month for November presents Vilppula railway station with was inaugurated 140 years ago.