New Art Sauna
In the lakeside setting of Serlachius Museum Gösta now stands the Art Sauna, which has something to offer not only sauna enthusiasts but also lovers of art, design and architecture. Groups can rent the Art Sauna for many kinds of occasions. Serlachius Art Sauna was chosen as the Travel Industry Innovation of the Year 2022 at the Finnish Travel Gala in November.
Art Sauna for evening relaxation, meeting and family celebrations
You can include in your group's Art Sauna visit a short, guided tour, presenting the sauna's architecture, art and design. In a group sauna experience, you can use the Art Sauna's towels and bench protectors, designed by the artist Satu Rautiainen. Bathrobes are also available for an additional fee.
The sauna heat is enjoyed in an atmospheric circular steam room. Showers can be taken in the shower room connected to the changing rooms or – summer or winter – in the outside shower, featuring a mosaic work by Tuula Lehtinen. A large terrace area offers a bubble tub, but you can also take a dip in the adjacent Lake Melasjärvi. During the sauna, you can enjoy refreshments and sauna snacks at a magnificent stone table on the terrace.
The sauna experience is not complete without a grill. On site, freshly caught fish are prepared directly in a smoke oven or beef steaks on a barbecue. Of course, there are also vegetarian and vegan options to choose from.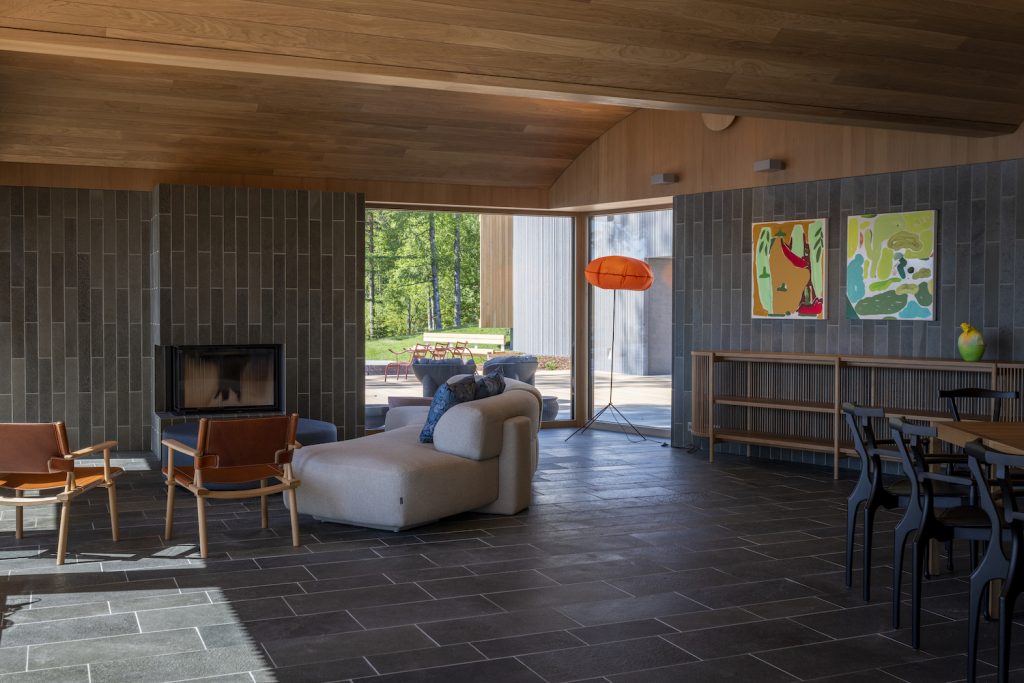 Sauna facilities
Two separate changing rooms and shower rooms, each with three showers
Round steam room for 20 people
Artistic outdoor shower, open summer and winter
Bubble tub for around seven people
24 people can dine at a magnificent stone table on the open terrace
Under the living room's arching oak vaults, there is room around the table for 24 people at a time
spacious decking areas
over 30-metre-long jetty
Meeting technology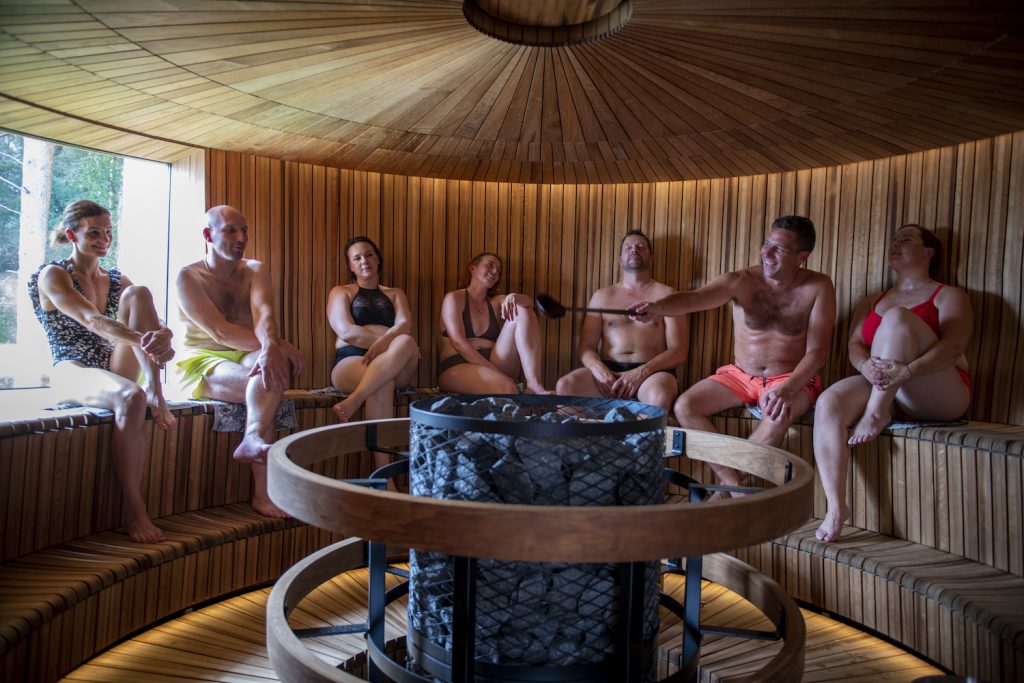 Public Sauna
You can experience the Art Sauna also on a public sauna day. The public sauna session offers you changing rooms, showers, toilets, a cooling off yard, terrace and jetty areas, a bubble tub and, if you wish, a swim in Lake Melasjärvi. Refreshments are for sale on site.
When you come to the public sauna, please bring your own towel and swimsuit. 15 people per hour are admitted to the sauna and a sauna session lasts two hours. Book your ticket in advance and check out the public sauna dates:

Art Sauna in Summer
With a short introductory video you get acquainted with the Art Sauna, its comfortable milieu and services.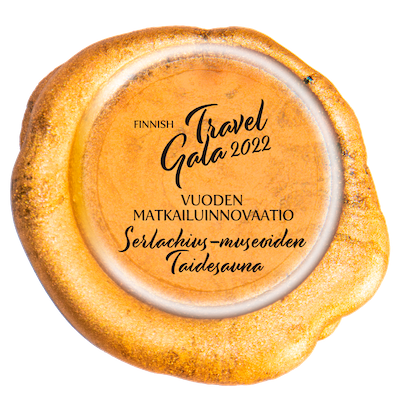 The Travel Industry Innovation of the Year
Serlachius Art Sauna was chosen as the Travel Industry Innovation of the Year 2022 at the Finnish Travel Gala in November. The jury described the Art Sauna as a breath-taking travel experience combining the Finnish sauna culture with the elements of art, nature and architecture. The Art Sauna brings joy to all senses.
At the same time, the Art Sauna creates a new sauna culture, in which sauna is a place for experiences and social gathering instead of just the traditional way of slowing down and bathing. The Art Sauna was also described as a fresh insight into the cultural tourism industry.
Book a sauna experience for your group! Tel. +358 3 488 6801 or sales@serlachius.fi
Please note that the access to the Art Sauna Area is permitted only by reservation and on public sauna days. Please do not take dogs to the sauna area.