SERLACHIUS – ALVAR AALTO – UNESCO HERITAGE SITES
Best Culture tour ever in Finland! Serlachius – Alvar Aalto – UNESCO Heritage! Highlights of Southern Finland and Lakeland Region – art, design, architecture, culinary pleasures and important UNESCO Heritage Sites in Finland.
Duration: 6 nights
Season: throughout the year
Group size: Groups – ideal 10–20 pax, example route for individual travellers
Route: Helsinki – Iittala – Art Town Mänttä – Jyväskylä – Kouvola – Malmgård –
Porvoo – Helsinki
Services: Helsinki 2 nights, Boutique hotel
Art Town Mänttä 2 nights, Boutique Manor Rapukartano, by the lake
Jyväskylä 2 nights, Urban Boutique Hotel Verso, boutique Hotel Yöpuu or Countryside apartment by the lake – Varjola Farm
Includes: Accommodation: 6 nights, daily buffet breakfast and Finnish Sauna
Tickets: Suomenlinna (UNESCO) ferry and entrance, Serlachius Museums Gösta and Gustaf in the Art Town Mänttä, Alvar Aalto Museum and Alvar Aaltos's Säynätsalo Town Hall in Jyväskylä, Petäjävesi Old Church (UNESCO) and Verla Groundwood and Board Mill (UNESCO), Mustila Arboretum.
Transfers: for groups private bus, for FIT's tailored schedule, by private taxi, train or bus e.g. Serlachius Shuttle from Tampere to Art Town Mänttä
Meals: Daily buffet breakfast, Art Menu at the Restaurant Gösta and buffet dinner at Manor Rapukartano in the Art Town Mänttä
Guidance: Highlights of Helsinki and Suomenlinna, Iittala Glass Factory, orientation tours of Serlachius, guided in English (other languages on request) – Art Museum Gösta and Museum Gustaf, Säynätsalo Town Hall – one of the Alvar Aalto's significant works, Verla Mill, Malmgård Estate and Brewery, Porvoo Old Town
Special: Finnish Sauna Experience at Manor Rapukartano
Complimentary: Bikes, Nordic walking poles and rowing boats of Serlachius
Optional: Tours to Lapland
GRAND TOUR OF DESIGN, ART & ARCHITECTURE
New Culture Route among the Happiest Nation in the World! Finnish Design Glass – Iconic Serlachius in the Art Town Mänttä – Alvar Aalto's Architecture in Seinäjoki – Culinary pleasures – World's most northern gin and whisky distillery and of course – colorful peculiar local culture of the odd small towns and villages – unique high-end accommodations. The journey can be continued across the sea to Sweden.
Duration: total 3 nights
Season: throughout the year
Group size: Groups – ideal 8–12 pax, example route for individual travellers
Route: Helsinki – Iittala – Art Town Mänttä – Seinäjoki – Vaasa — (to Sweden)
PROGRAM

DAY 1: GLASS DESIGN
Departure from Helsinki towards Lakeland Region and Art Town Mänttä and Serlachius – on the way visit to see design glass. First stop in Riihimäki (about 40 min drive).
Visit the Finnish Glass Museum in Riihimäki, guided tour. The Finnish Glass Museum is a specialist museum focusing on glass design and the history of glass from old pressed glass to Tapio Wirkkala's famous Chantarelle (Kantarelli) vase.
Lunch at the Gingerbread House in Hämeenlinna (after 35 km drive), in the old historical Merchant's home from 1906. The name origins of the paneling of the house.
The next destination is Iittala (about 15 min drive). Welcome to the source of world-famous Finnish glass design! The most famous glass artefact, a vase designed by Alvar Aalto, is still manufactured in Iittala Glass Factory, which we will visit. Coffee / tea and chocolate in the Chocolate Cafeteria.

Forest Lords are waiting for you within 1 h 40 min drive along beautiful forest and lake scenery.
Arrival in the Art Town. Check-in the Wilderness Boutique Manor Rapukartano (the Crayfish Manor).
Rapukartano, whose majestic buildings evoke a spectacular surprise, is located amid magnificent forest nature. Rapukartano's restaurant acquires most of its ingredients locally, and the chefs turn them into delicacies. Enjoy Finnish Evening – simply sauna & food!


DAY 2: THE AMAZING ART TOWN
After breakfast buffet it takes only 15 min to reach the soul of the Art Town Mänttä – Iconic Serlachius.
Serlachius Museum Gustaf operates in the glorious former headquarters of the forest combine from year 1934. There you can admire the beauty and functionality of the office building, four floors of exhibitions and you will meet for example the legend of Finnish paper industry, the Paper Devil, himself. Private guided tour 1h (English, Swedish, German, Russian).
In the Restaurant Gösta Art Lunch á la Chef Henry Tikkanen. As the basis of Gösta restaurant's flavours, the chefs de cuisine select local, quality ingredients according to season. Restaurant Gösta is famous for its pure tastes stemming from Finnish nature.
Serlachius Museum Gösta hosts one of the Nordic countries' largest private art collections. The heart of it consists of the masters of the Finnish Golden Age art, but there are also contemporary works in the collection. The art museum consists of two parts: the old manor, paper tycoon's former home and the fabulous modern pavilion awarded due its architecture and wooden constructions. Private guidance 1 h, (English, Swedish, German, please ask for other languages).
At the end of the day, a memorable time and wonderful tapas at the Vuorenmaja Wine Tavern up on a hill amid Finnish coniferous forest. The 1928-built former ski cottage Vuorenmaja is part of the Forest Lords' and Serlachius' history. Night in Rapukartano.


DAY 3: ARCHITECTURE BY AALTO
Drive in the Finnish countryside to Seinäjoki 150 km with the vast cornfields and barns along the road.
Seinäjoki. Let the world-famous architecture and local culture & cuisine inspire you. Alvar Aalto was a legendary Finnish architect and historical figure. The mark of Aalto's hand can be seen in Seinäjoki which draws the interest of architecture enthusiasts both nationally and internationally.
Check-in the Hotel Alma or Boutique Hotel Alma Tower. Stay Overnight in the House of Railroad Workers or in the Water Tower!
Guided visit at the Aalto Center with Aalto's famous designs: Lakeuden Risti Church, Parish Center, City Hall, City Library, Central Government Offices and City Theather.
Dinner at the Restaurant Alma, in the historical banquet hall of railroad workers.


DAY 4: MADE IN FINLAND
Get inspired by Aalto on your own and enjoy the morning like the locals. The world's largest collection of Aalto glassware – Aino and Alvar Aalto glassware collection of over 200 pieces at the Aalto Library.
Lunch at Restaurant Äärellä in the Culture Center Kaleva.
Kyrö Distillery. Like many great ideas – and half of the Finnish population – Kyrö Distillery Company was conceived in a sauna by group of friends with a shared love of rye whisky. The distillery found a home in an old dairy co-operative in Isokyrö in peculiar Finnish village in Ostrobothnia 37 km from Seinäjoki and since then the distillery has won numerous international prizes. Distillery tour and tasting.
We recommend that you end your Grand Culture tour in Vaasa by stepping onboard Wasaline, in a Finnish Ship, which takes you to our neighbouring country, Sweden. Wasaline's route runs along the waters of UNESCO's World Heritage Site, with a unique diversity of species.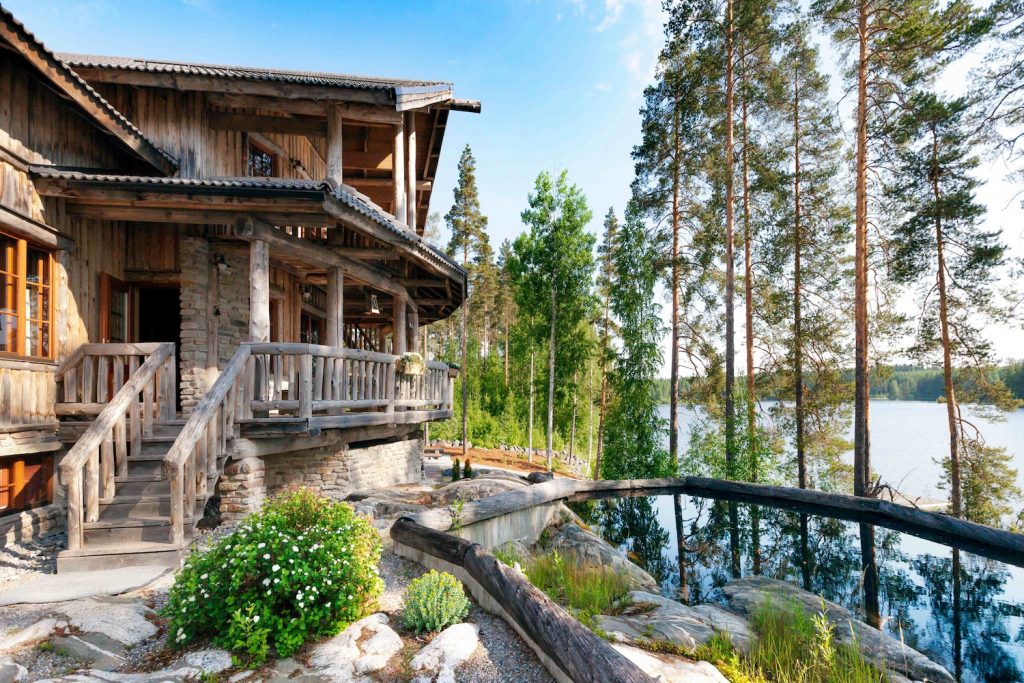 Got interested? Ask more and book:
tel. +358 (0)3 488 6801 or sales@serlachius.fi