GRÖNLUND-NISUNEN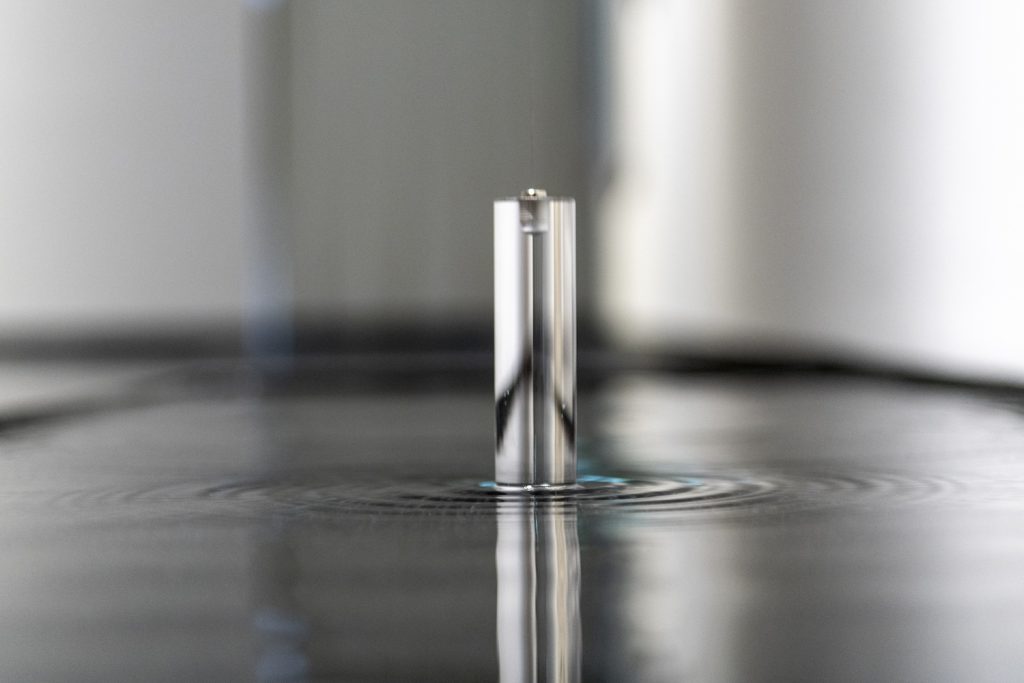 Tommi Grönlund and Petteri Nisunen have been collaborating as an artist collective since the 1990s. Their art highlights invisible phenomena that are ever-present behind the scenes in everyday life. Their work is often based on a natural phenomenon or law of physics which they strive to translate into a visible form. The study of various aspects of movement is an enduring subject of fascination for Grönlund-Nisunen, whose style of expression is characterized by its beautiful minimalism.
Internationally renowned artist collective Grönlund-Nisunen started their collaboration while studying at the School of Architecture in Tampere University of Technology late 1980s. The art of the duo has been presented in numerous exhibitions across the world since 1993. Grönlund and Nisunen live and work in Helsinki.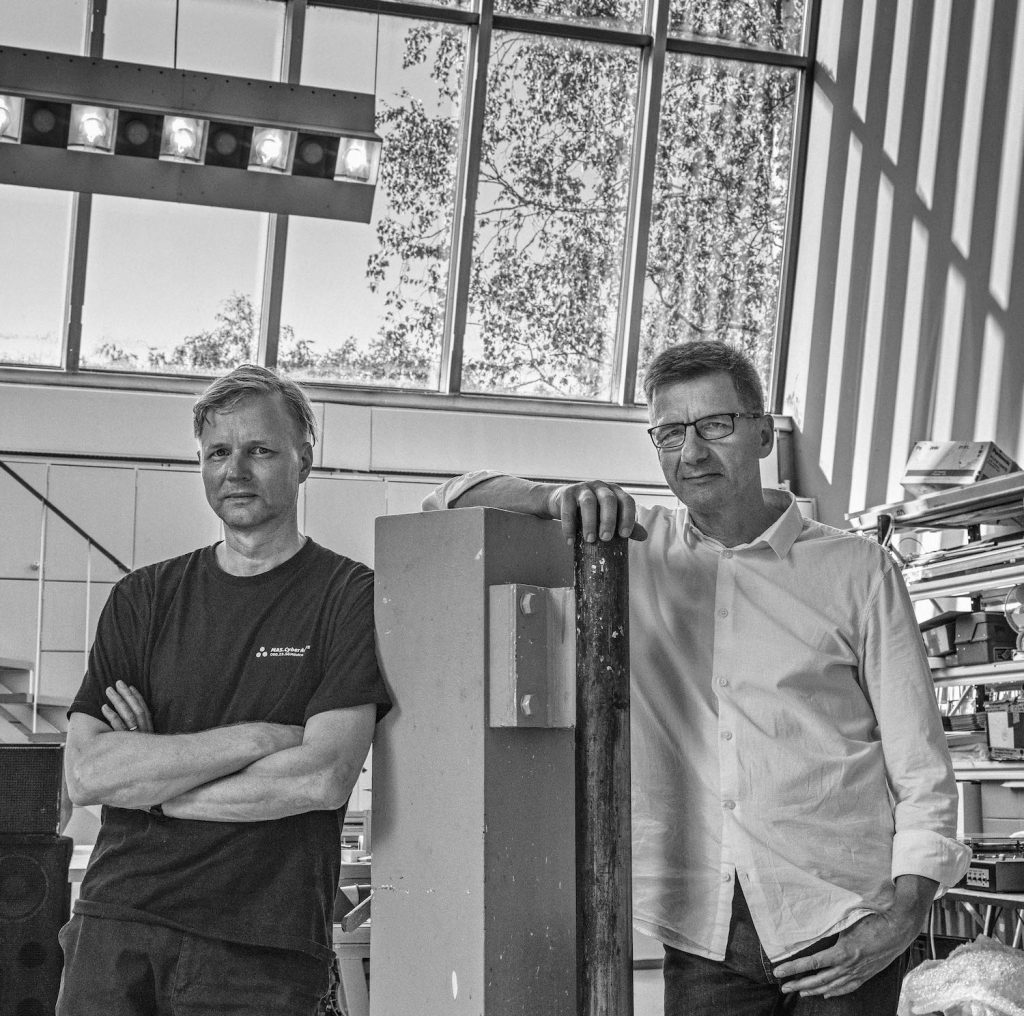 RITA JOKIRANTA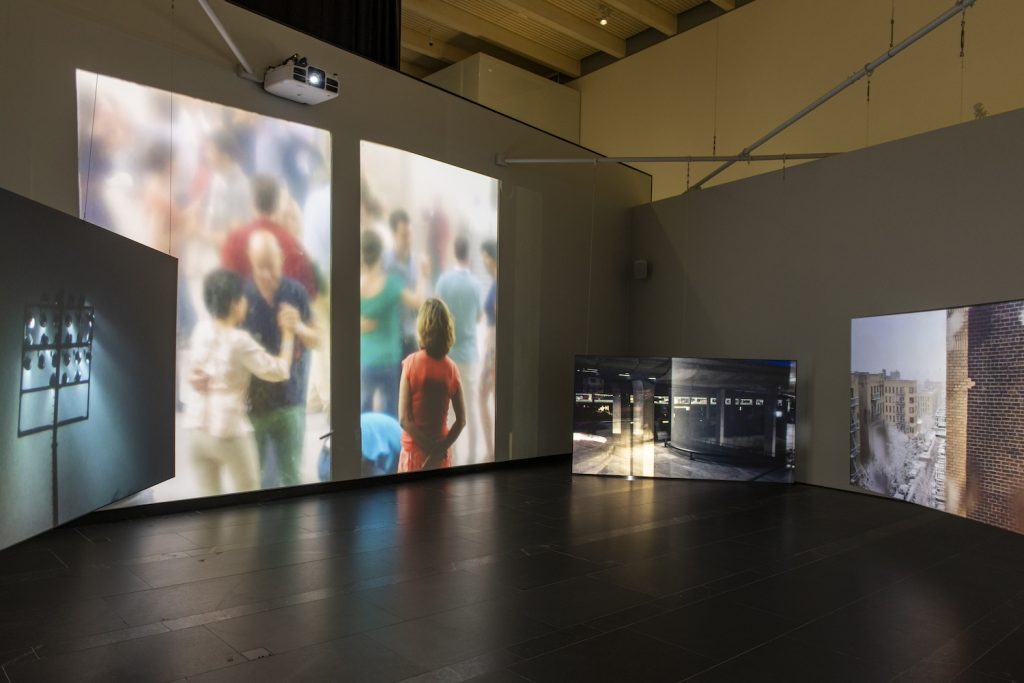 Rita Jokiranta's art explores the dynamic that exists between images, events and their interpretations. Jokiranta is acclaimed for her impressive multi-channel video installations, which invite viewers to move through the space and experience the work physically. Life as It Flees captures fleeting scenes from everyday life. It consists of episodic moments that unfold in random succession and multiple layers – like life itself.
Rita Jokiranta photograph and video works have since 1989 been widely exhibited in solo and group exhibitions in Europe, the United States and Canada. Jokiranta lives and works in Mariehamn.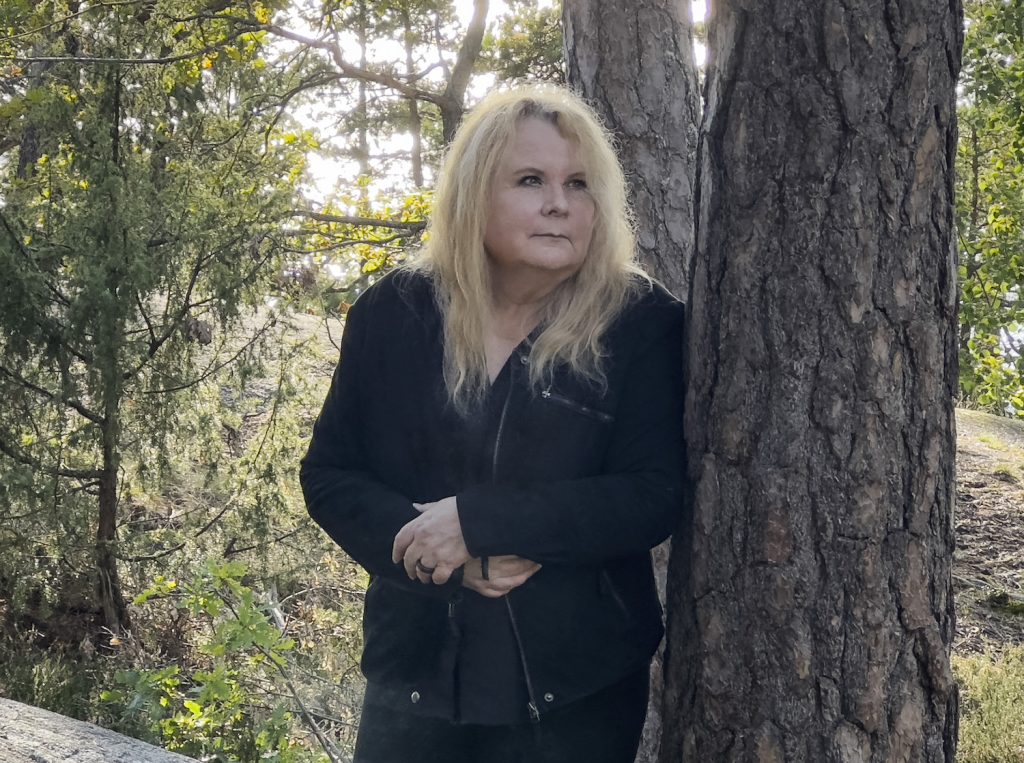 EEVA KARHU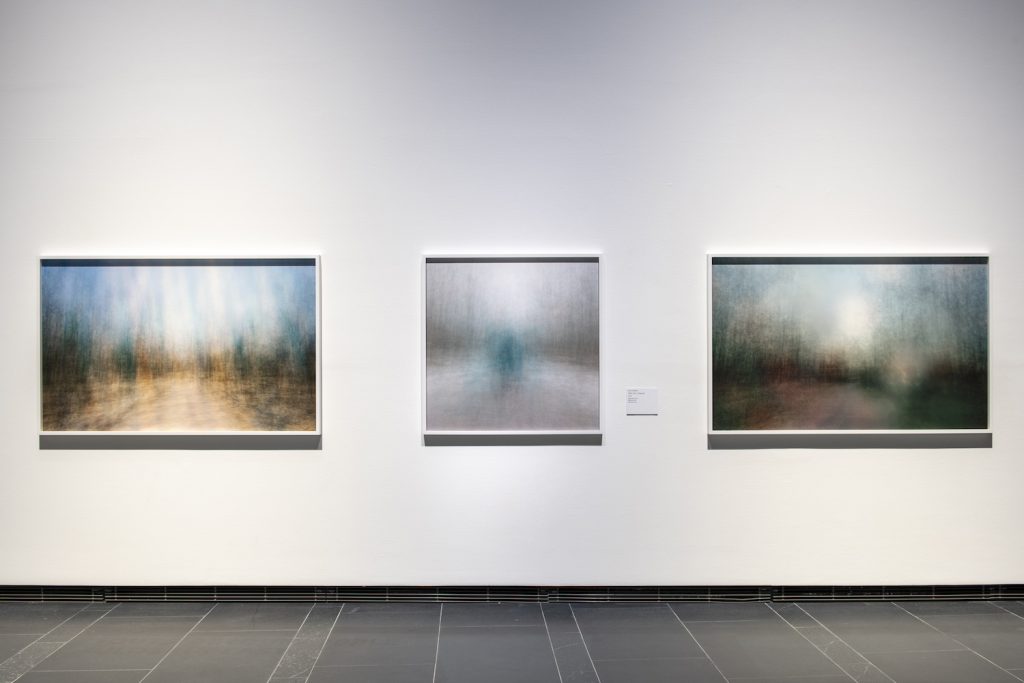 Eeva Karhu examines what kind of observations constitute the basis of our perception of reality. For over a decade, she has been photographing the path she follows daily from her front door. Her works consist of superimposed photographs taken either during a single walk or season of the year. By photographing her journey and the landscapes she encounters, Karhu captures shifting nuances of light and colour as well as a palpable sense of the passage of time.
Eeva Karhu graduated as MA at University of Art and Design Helsinki, Finland, in 2014 and is one the internationally most renowned photography artists of Helsinki School. Her works have been exhibited widely in Finland and other parts of Europe.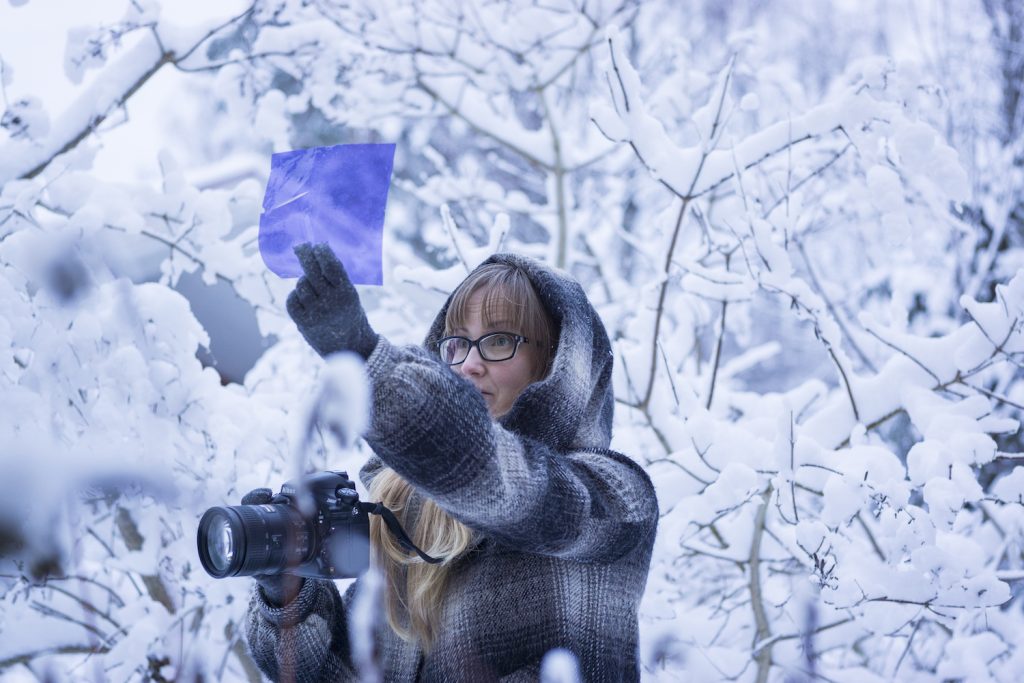 TIINA PYYKKINEN
Viewing Tiina Pyykkinen's art is an event, with the piece being constantly transformed by the space and the people moving in it. Her paintings foreground the physicality of the act of perception. To enter the world of the painting, the viewer is compelled to move around and observe it from different angles. Our efforts are thwarted, however, for it is impossible to view all the images painted on the reflective surface simultaneously. They either conceal or reveal, depending on the angle from which they are viewed.
Pyykkinen has graduated from Finnish Academy of Fine Arts in 2014 as Master of Fine Arts. She was selected a Young Artist of the Year 2017 and her works have been presented at several solo and group exhibitions in Finland and other European countries. She lives and works in Helsinki.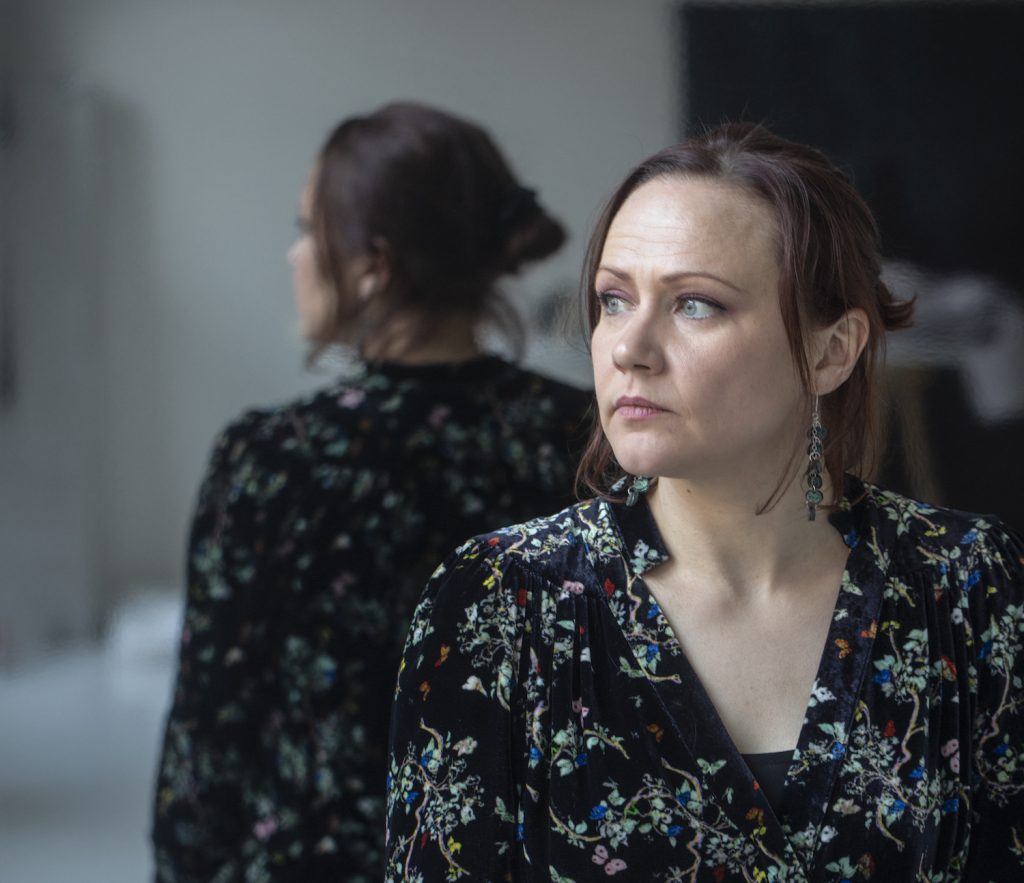 HELI REKULA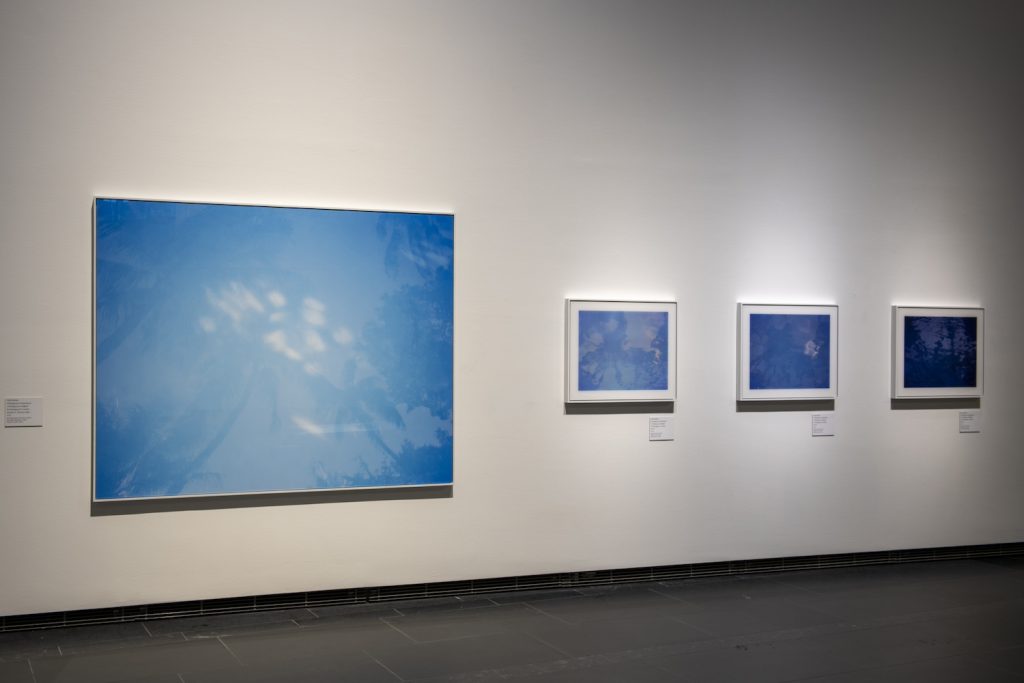 Heli Rekula explores the layered nature of memory, time and place. In Hemingway's Garden is a series of photographs recording reflections in rippling water. The photographs portray the swimming pool at The Hemingway Home and Museum on the island of Key West in Florida, capturing the pool's rippling surface and the changing position of the sun. The watery images become conflated with the history of the place and its narratives. What exactly do we see through all the layers?
Photography artist Heli Rekula graduated from the Lahti Institute of Design photography course in 1991. The works of the award-winning artist have been exhibited internationally over the past 25 years. She works as a Senior University Lecturer of Photography at Aalto University.She lives and works in Helsinki.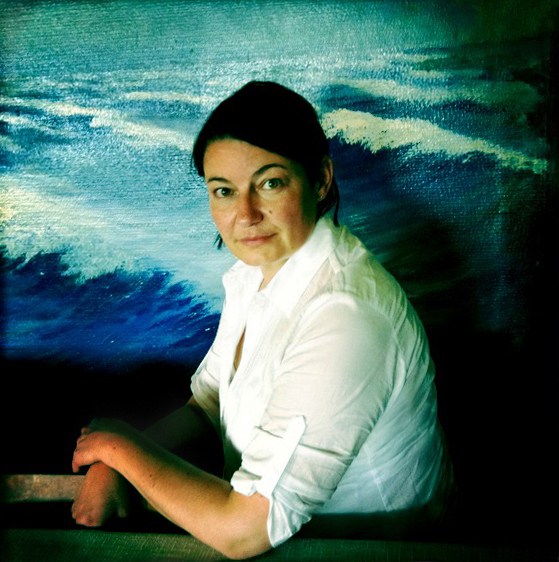 VAPPU ROSSI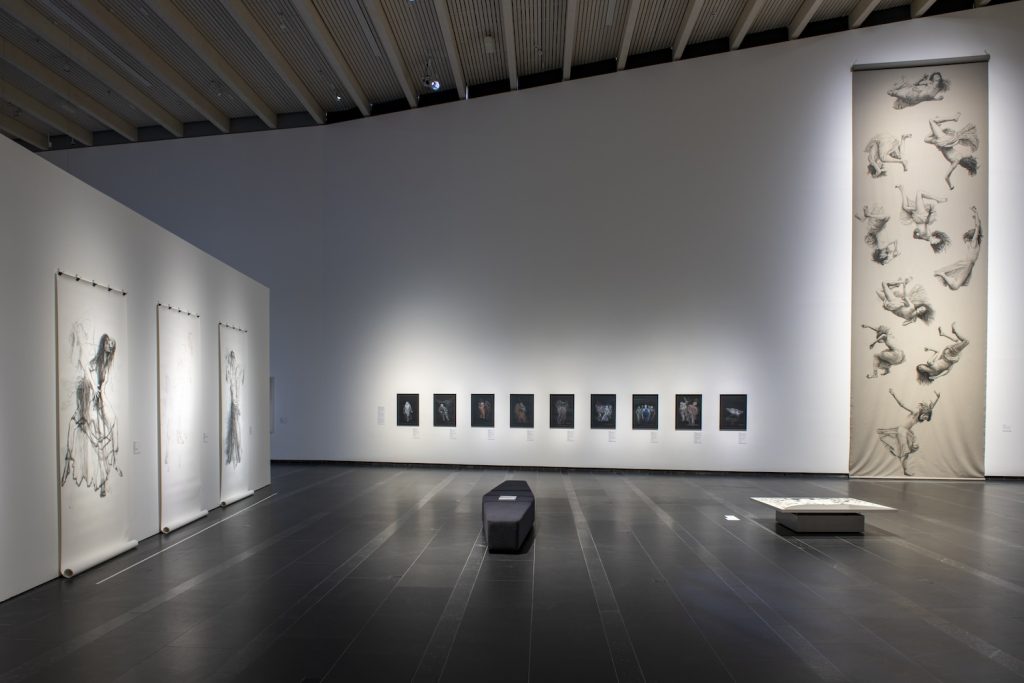 Vappu Rossi catches fleeting moments by drawing figures in motion. All the works in the Catch exhibition portray choreographic movement. Drawing on a black background, Rossi has recorded the expressive postures of dancers rehearsing for various performances. Her method entails complete immersion in the moment – even when the dancers are moving slowly, the artist must keep up a furious sketching tempo. The three-part series Furie portrays a different subject: the Furies of Greek mythology. Rising to a height of over eight metres, Off Gravity was created especially for this exhibition. As the title suggests, the soaring bodies defy the laws of gravity and float rapturously in the air.
Vappu Rossi has graduated as Master of Visual Arts from the Academy of Fine Arts Helsinki in 2008. she works as Drawing Master at Helsinki University. Rossi's works have been presented extensively in Finland and around the world.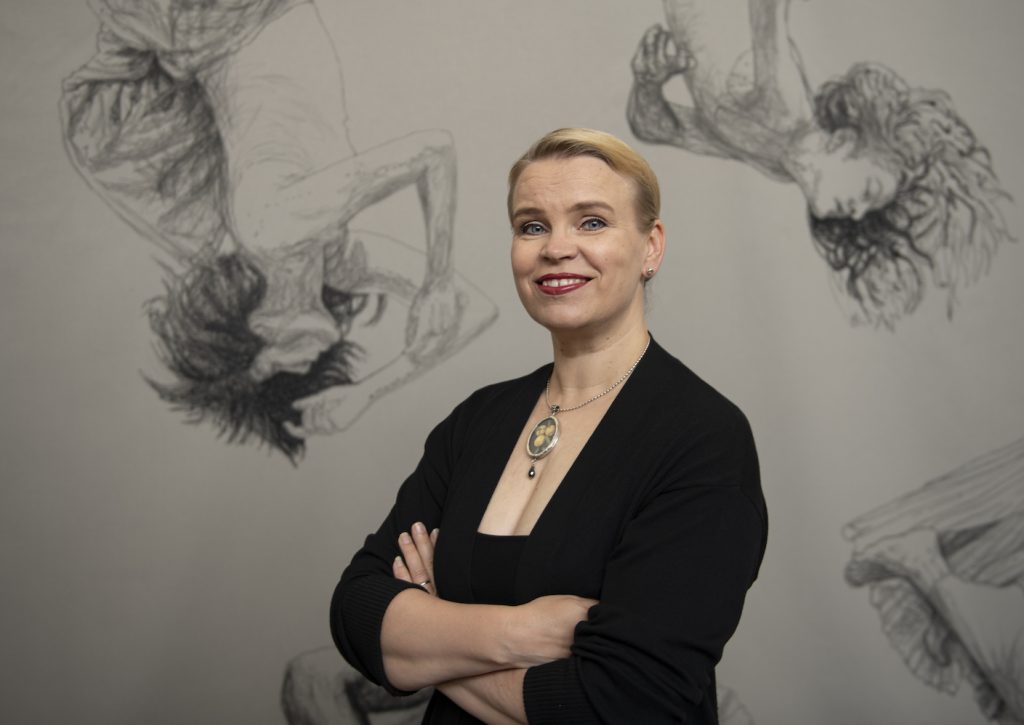 HANNA SAARIKOSKI
The world of Hanna Saarikoski's videos invites the viewer to slow down for a moment of introspection. For a number of years, the artist has been experimentally filming views from windows – a subject she also explores in her paintings and drawings. En plein air and Homescape are like paintings that have come to life, focusing our attention on subtle, barely perceptible changes and events. The video Unfixed Moments is an invitation to pause and contemplate the differences between perception and memory. Experienced moments are not always preserved in memory in an uncorrupted form – over time, they take on new colourings.
Hanna Saarikoski studied at the Nordic Art School in Kokkola and graduated from the Academy of Fine Arts Helsinki in 2008.. Saarikoski's art has been presented in several solo and group exhibitions in Finland. She lives and works in Helsinki and Somerniemi, Finland.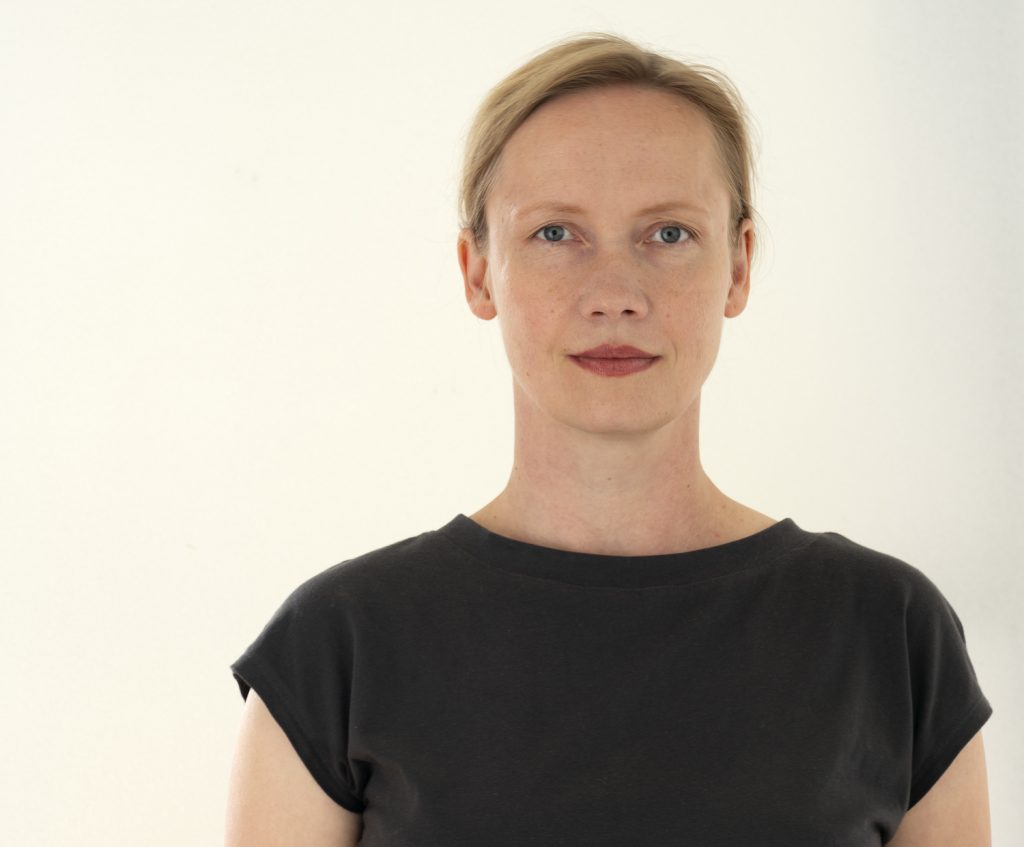 JANNA SYVÄNOJA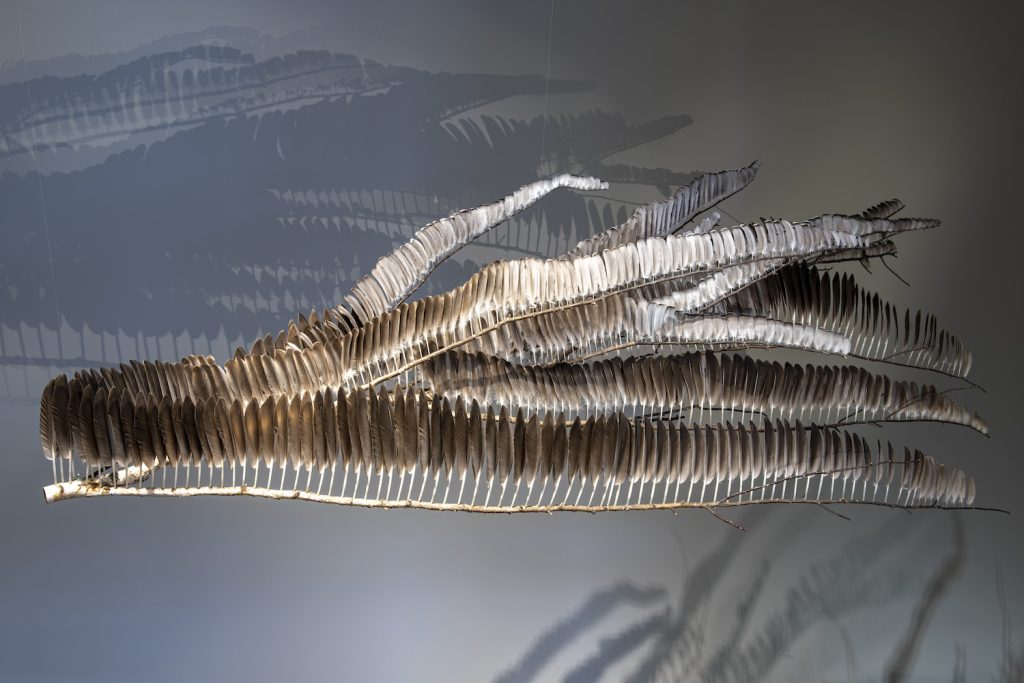 Roaming in nature is an integral part of Janna Syvänoja's process. As she walks, she pauses to pick up pieces of sea glass, rose petals and goose feathers – unique fragments from the cycle of life. In her studio, Syvänoja suspends nature's cycle and gives these vanishing, miniscule details a new life as part of an artwork. Growth, flowering, withering and new beginnings are an inherent part of her sculptures, which exude the feel of open air, respect for nature and the meditative deliberation of her process.
Janna Syvänoja graduated from the Academy of Fine Arts Helsinki as an interior designer and furniture designer n 1993. She is also renowned as textile and jewellery artist. Syvänojas works have been presented in Finalnd and in other European countries She lives and works in Helsinki.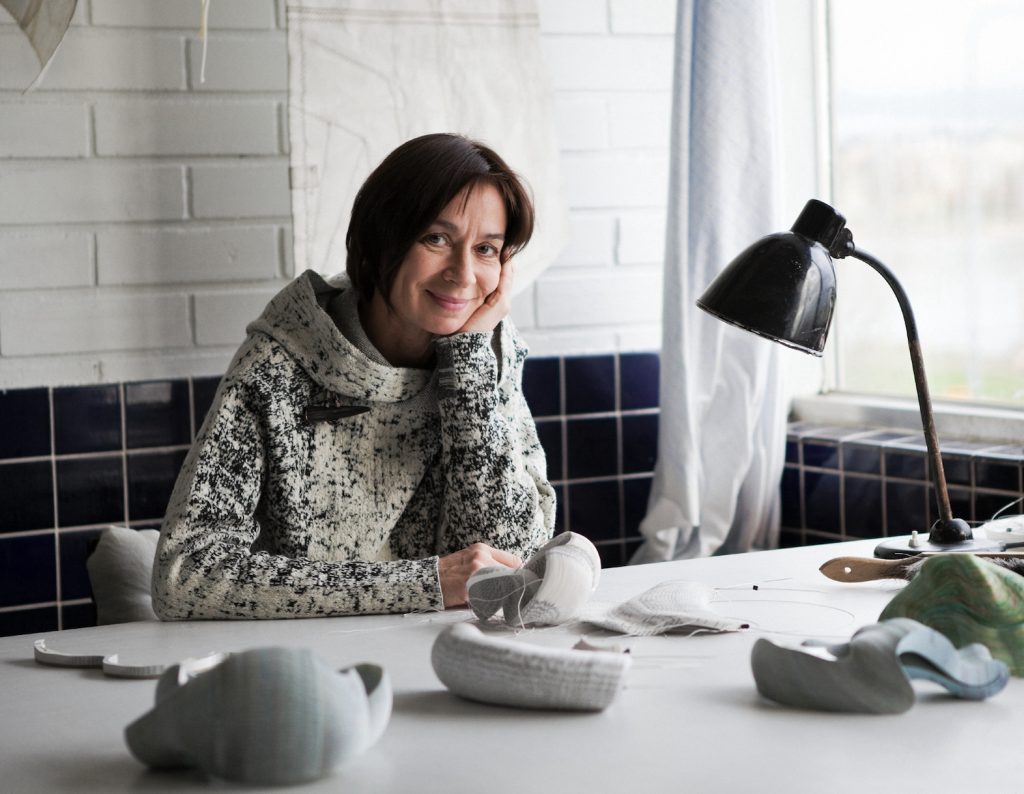 HANNA VIHRIÄLÄ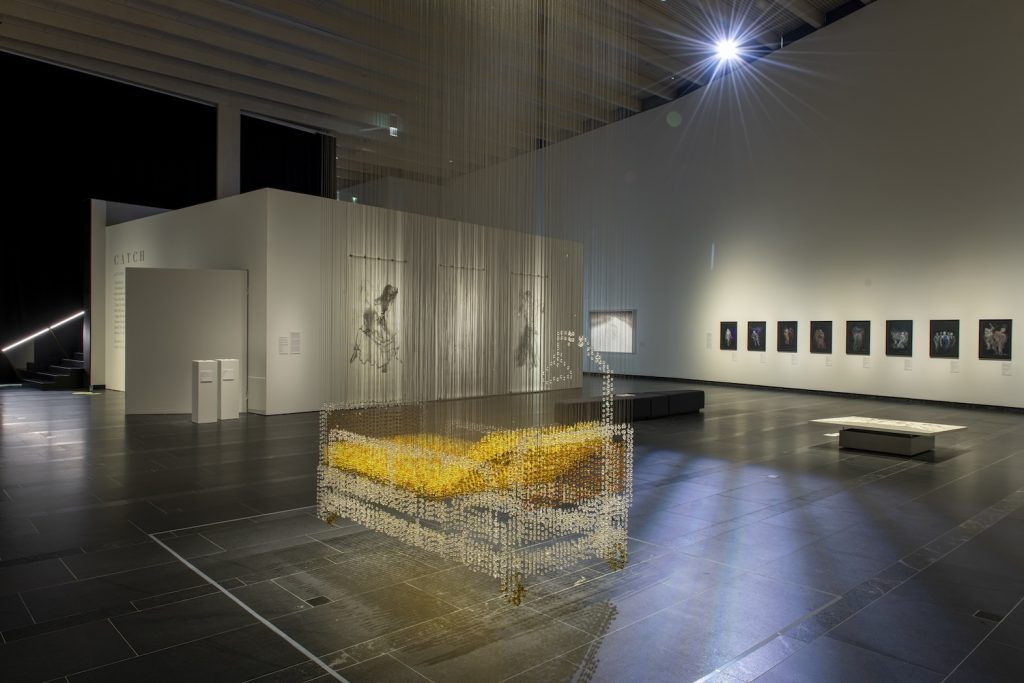 Hanna Vihriälä's works are based on personal memories. Her sculptures consist of acrylic beads, pebbles and other small fragments that she strings together by hand. The works in the exhibition are distillations of emotionally powerful moments. The artist processes the death of her father in Overhead Trapeze, which portrays a hospital bed. Luminous revisits the return of a lost dog. Vihriälä's works are deeply personal, which makes them universally relatable; they convey emotions with which anyone can identify.
Hanna Vihriälä graduated from the Academy of Fine Arts in Helsinki in 2003. She has also studied at Liminka Art School, Lapland University and Estonian Art Acadamy . Vihriälä has participated in numerous exhibitions in Finland as well as abroad. She has also created several public works. Vihriälä lives and works in Tampere.