Serlachius Museums' guided video tours
You may start your visit at Serlachius by taking a look at the guided tours on video. On this site we publish digital material on current exhibitions. Video stories give an abundance of background information when you walk through the old manor or single exhibitions at Museum Gösta. Acquaint yourself also with topical work presentations provided in the video stories.

GUIDED TOURS
Guided tour to the manor
Virtual video tour to the exhibition takes us to the old manor at the Serlachius Museum Gösta. Planning Officer Tarja Haikara introduces us to an interesting selection of gems of the Fine Arts Foundation's collection and gives further information on the artworks.
Guided tour to Museum Gustaf
Get acquainted with the interesting history and magnificent architecture of the former head office building that nowadays houses Museum Gustaf. Planning Officer Tarja Haikara leads you also to the artworks decorating the Mänttä's White House.
EXHIBITION PRESENTATIONS
Trish Morrissey: Autofictions
Photographic artis Trish Morrissey speaks about the works and work series on show in her exhibition Autofictionst. Her retrospective exhibition is on display at Serlachius Museum Gustaf 5 Feb 2022–8 Jan 2023.
Clare Woods: Between Before and After
British Artis Clare Woods speaks about how the imagery from various sources has inspired her creating process. Her recent body of work comprises domestic motifs as well as flower paintings. Her paintings are on show at Serlachius Museum Gösta 26 March 2022—5 March 2023.
VIDEO STORIES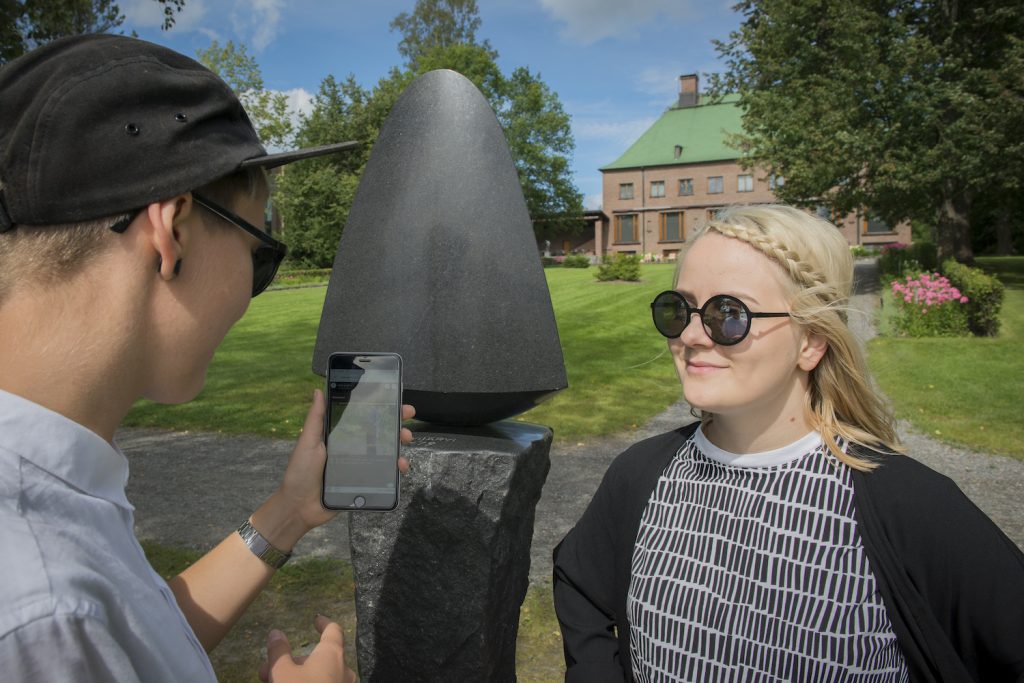 Video stories
Video stories offer a lot of interesting information to aid and intensify your museum visit. You will learn details about the history of the Serlachius Museums, architecture, exhibitions, key works as well as the industrialist generations of the Serlachius family. On your smart phone you can read QR code from the info board, at the exhibition or outside near each sculpture.
You may acquaint yourself with guided tours also through a link below. They are available in English and Finnish. The language can be chosen independently for each item.
During your visit to Serlachius Museums you can explore our mobile tours with a tablet computer which can be borrowed at either of Serlachius Museums' ticket counters.