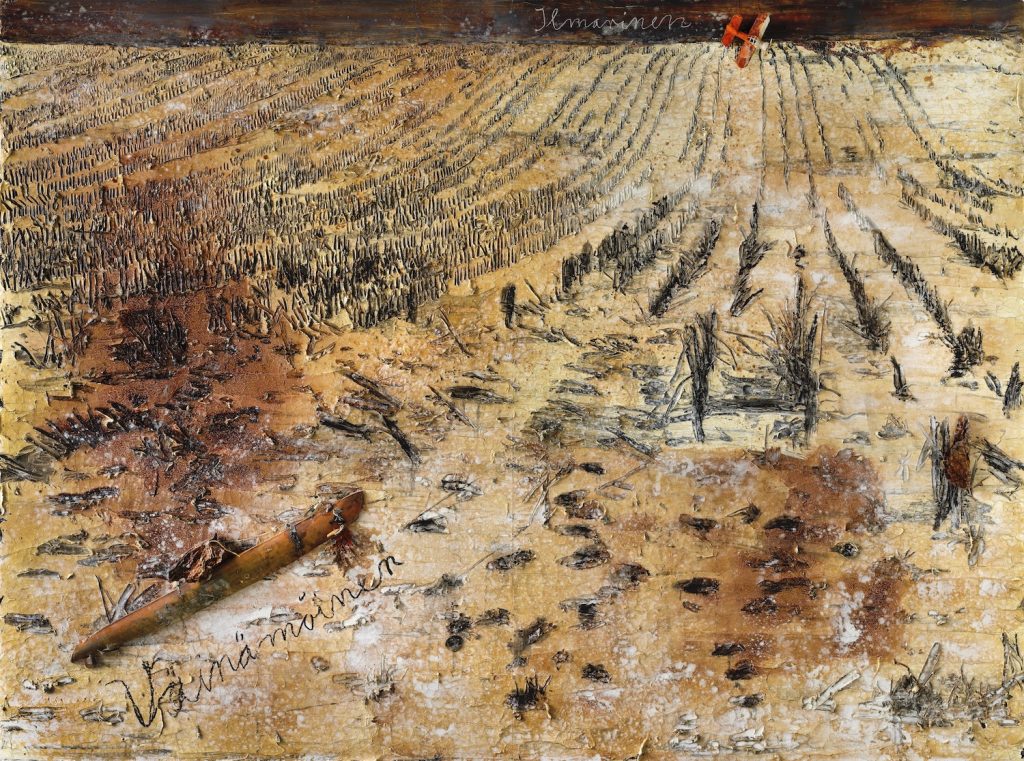 Anselm Kiefer's work Väinämöinen Ilmarinen to be exhibited at Serlachius Museum Gösta
Gösta Serlachius Fine Arts Foundation's acquisition Anselm Kiefer's artwork Väinämöinen Ilmarinen (2018) complements from 24 March the collection hanging Classic works of Fine Art at the Manor at Art Museum Gösta.
Anselm Kiefer's works are often monumental in their themes and dimensions. Väinämöinen Ilmarinen is also a large-scale work. It features, characteristically for Kiefer, a desolate landscape resembling a battlefield, with a submarine and aircraft in the foreground: the seer Väinämöinen is depicted as a submarine, the creator of the heavens, and blacksmith Ilmarinen as an aircraft.
It is the first of Kiefer's Kalevala-theme works be sold to a museum collection. The artwork Väinämöinen Ilmarinen came to Serlachius via the United States. Kiefer donated the work to a fund-raising campaign for an extension to the Albright-Knox Art Museum, directed by Janne Gallen-Kallela-Sirén. Sirén proposed that the work not be auctioned but offered to Finnish public collections, initially to Serlachius, the museum that had organised a major Kiefer exhibition a few years earlier. This way the work could end up in Finland, the home of the Kalevala and Finnish Kalevala art
Anselm Kiefer, one of the most prominent names in contemporary art, explores in his works the great issues of humankind, drawing on history, literature and philosophy. The Kalevala, the Finnish national epic poem, has also long made an impression on Kiefer: "I read the Kalevala in the late 1970s and early 1980s. Recently, I again turned my attention to the Kalevala's verses and also painted works inspired by the epic."
He feels that the Kalevala, the Song of the Nibelungs, Ancient Egyptian fables and other mythologies seek to understand and describe the world as a whole. "Such a comprehensive description of the world is difficult today, because the world is fragmented, and we do not see it as a whole", he reflects.