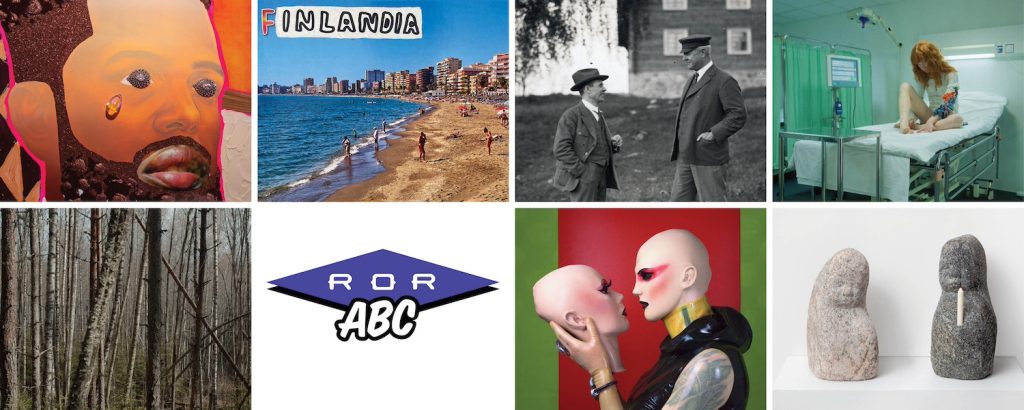 Press release 25.10.2023
Serlachius Museums exhibitions 2024: nothing ordinary
At the Serlachius Museums, the year 2024 will see the ROR collective, which conquered the world in the early 2000s. American artist Devan Shimoyama will present his acclaimed barber installation. Commissioned for Serlachius, Eija-Liisa Ahtila's new work questions the narrative and anthropocentrism of moving images.
ROR – ABC
23 March 2024–23 March 2025
Did someone order a revolution? ROR is Back! In 2000, ROR came, saw and conquered the world. Commissioned by the Serlachius Museums, it returns from the future, bringing with it a wonderful alphabet that creates a new ROR world. The exhibition has been designed and curated by the ROR group: Petri Ala-Maunus, Jiri Geller, Alvar Gullichsen and Ilse Rossander.
Read more: https://serlachius.fi/en/exhibition/ror-abc/
Devan Shimoyama: Fade Cut
23 March–18 August 2024
Making his Nordic debut, US-artist Devan Shimoyama (s. 1989) brings to Serlachius his installation, which has been highly acclaimed. Shimoyama (b. 1989) explores themes of sexuality, race and gender in his carnivalesque works. He reflects on queer identity, appending to it references from mythology and art history.
Read more: https://serlachius.fi/en/exhibition/fade-cut/
MASK
11 May–15 September 2024
Group exhibition Mask explores the meanings of mask wearing as part of human history. MASK examines the subject of masks from antiquity through 20th century avant-garde to contemporary art. The exhibition has borrowed works not only from art museums but also from cultural history collections, and it is curated by the Italian art historian Lorella Scacco.
Read more: https://serlachius.fi/en/exhibition/mask/
Patrons
from 15 June 2024
Behind the Serlachius art collection is a fascinating story that intertwines art, history, architecture, forest and Finnishness. The permanent exhibition at the Serlachius Museum Gustaf tells the story behind the Mänttä art collection. It includes a separate experience and workshop area for children and the childlike who are interested in forests.
Read more: https://serlachius.fi/en/exhibition/patrons/
Riiko Sakkinen: Los Moimoi de Fuengirola
15 June 2024–16 February 2025
The exhibition and research project of the artist Riiko Sakkinen (b. 1976) explores the identity of Finns living in Fuengirola, in Spain's Costa del Sol. A community of around 30,000 Finns live their own semi-isolated lives. Indeed, the Fuengirola local government has named its municipality "Finland's southernmost town".
Read more: https://serlachius.fi/en/exhibition/los-moimoi-de-fuengirola/
Thank-you Letters
15 June 2024–16 February 2025
Works of art sometimes have such a powerful impact on the viewer that the experience leaves a lasting impression. In the group exhibition Thank-you Letters, people working in the visual arts highlight each an individual artist and their work. Thank-you letters create a meandering, multi-faceted chain in which good words are passed on from one author to the next.
Read more: https://serlachius.fi/en/exhibition/thank-you-letters/
Nastja Säde Rönkkö: salt in our blood, in our sweat, in our tears
7 September 2024–23 March 2025
Tears and drops of blood and sweat create a tragic story about lost love. Nastja Säde Rönkö's (b. 1985) video installation is driven by a poetic text. She received the third Below Zero Prize (2023), granted by Beaconsfield Gallery London, Serlachius Museums and the Finnish Institute in the UK and Ireland, and created the work in connection with a mentored residency provided by it.
Read more: https://serlachius.fi/en/exhibition/salt-in-our-blood-in-our-sweat-in-our-tears/
Eija-Liisa Ahtila: Reflection on a Forest
12 October 2024–27 April 2025
Eija-Liisa Ahtila's (b. 1959) third commissioned work for Serlachius Museums is a multi-image installation in which she continues to call into question the narrative of the moving image and human-centred perspective. Ahtila builds ways of representation and expression that can help create a more balanced understanding of the living reality of the planet.
Read more: https://serlachius.fi/en/exhibition/reflection-on-a-forest/
Press releases and photographs: https://serlachius.fi/en/for-media
For further information and image requests, please contact:
Susanna Yläjärvi, Information Officer, Serlachius Museums, susanna.ylajarvi@serlachius.fi, tel. +358 (0)50 560 0156
The Serlachius Museums are open:
in the winter season, 1 September–31 May, from Tuesday to Sunday, 11 am–6 pm.
in the summer season, 1 June–31 August, every day 10 am-6 pm
Gustaf Museum is closed for renovation from 20 November 2023–14 June 2024.
Visiting addresses:
Serlachius Museum Gösta, Joenniementie 47, Mänttä
Serlachius Museum Gustaf, R. Erik Serlachiuksen katu 2, Mänttä
Serlachius Museums in the social media: Facebook, X, Instagram, YouTube, LinkedIn