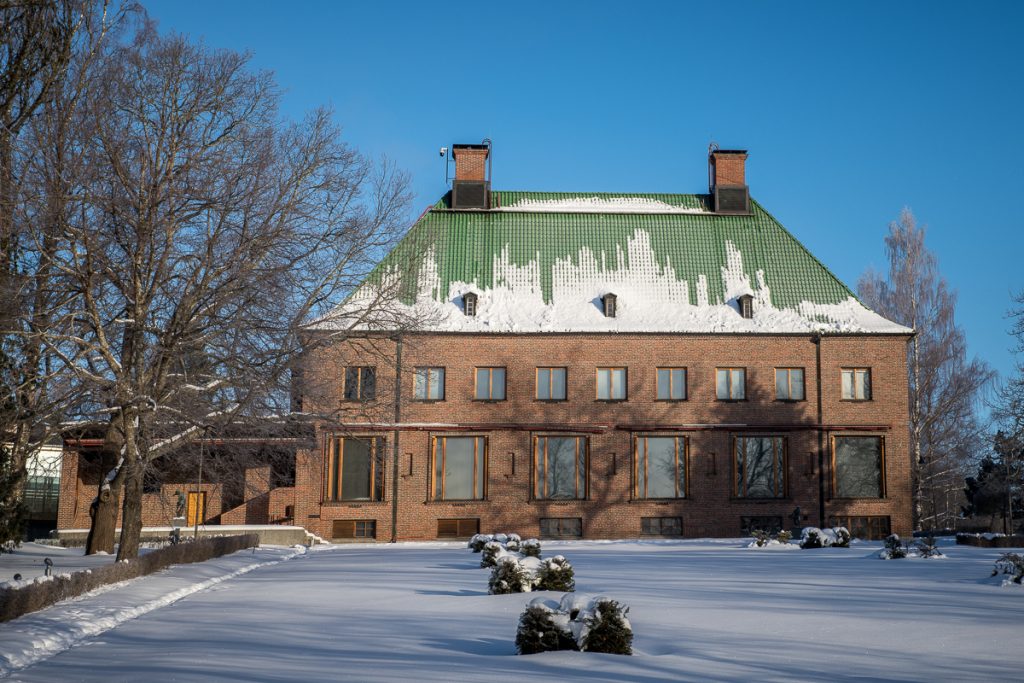 THE ARCHITECTURE OF GÖSTA'S MANOR
The Art Museum Gösta started off in Joenniemi Manor, where the collection of the Serlachius Fine Arts Foundation has been displayed since 1945. The manor house was completed in 1935 as the stately home of Gösta Serlachius and his wife Ruth. Serlachius wanted the manor to be a building that matched his highly specific understanding of beauty.
Jarl Eklund was commissioned to design Joenniemi Manor. Eklund made a number of draft proposals for the manor's façades for the approval of Gösta and Ruth Serlachius. The end result, a high-ridged, red-brick building which combines English manor architecture and functionalism in a harmonious way. The manor's façade has features of 1920s classicism. The roots of 1920s classicism were, on the one hand, in ancient architectural art and, on the other hand, in the modernist architecture of the early 20th century. It has been estimated that representatives of the same style trend comparable to Joenniemi Manor is Louhisaari Manor in Askainen as well as Roselew familys hunting lodge Vanajanlinna. The family coats of arms of the hosts and the heraldic emblem of the Province of Häme located above the entrance door.
The interior of Joenniemi Manor represents well its time of origin. The mainstream of architecture in the 1930s was functionalism, whose pragmatism is also present at Joenniemi. The reduced lines of the fixed furnishings, the muted colour scale of the materials and the stripped-down ornamentation are functionalism at its most typical. Although the manor has now been renovated for use as an art museum, many original features can still be seen in the interior; for example, the oak parquet floors, the Carrara marble tiles of the hallway, and the flame birch connecting doors have been preserved for over 80 years. The ground floor of the manor was reserved for work and entertaining, the first floor for private use. A stairway for service staff and a kitchen were at the western end of the house. In the basement there were naturally storage rooms, but also a winter garden.
As in other significant building projects commissioned by Gösta Serlachius, the Joenniemi Manor's interior includes permanent artworks created during the construction stage, for example the library ceiling decorated by Lennart Segerstråle, the al secco paintings by Irina Bäcksbacka that adorn the wine cellar, and ironwork by the art smith Atle Luotonen. Hannes Autere's wood sculptures have decorated the manor's doors and window jambs since the house was built.