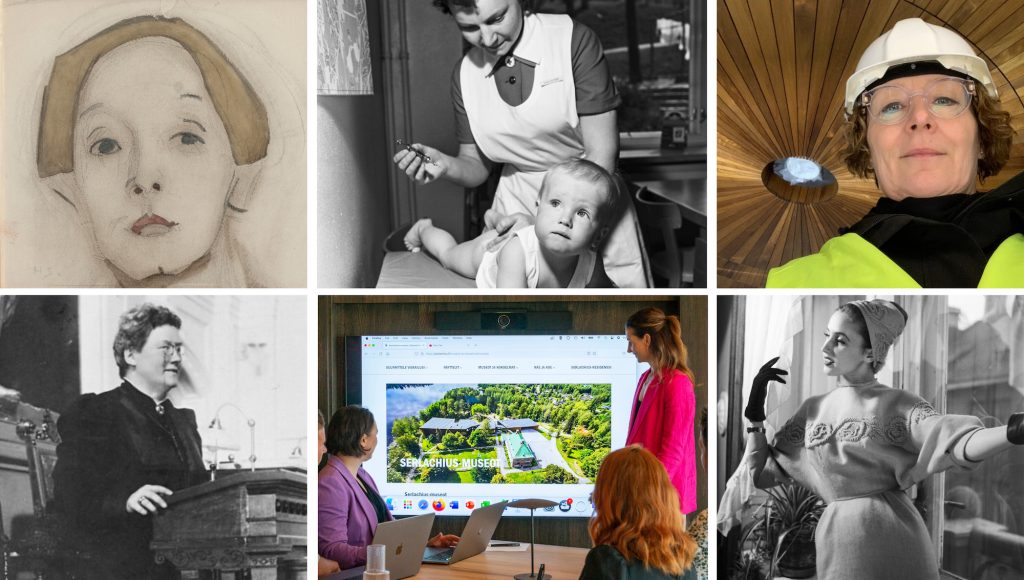 Press release 18 January 2023
Travel products based on the success stories of Finnish women
Finland is one of the frontrunning countries in equality. In the Nordic countries and Finland, women have long enjoyed a relatively independent status and the opportunity to lead a life of their own terms, which is not self-evident internationally. Finnish women were the first in the world to obtain full political rights. Now the international media talks about the young female Prime Minister of Finland. The story of Finnish women attracts international interest.
Serlachius Museums is currently developing new all-female tailored themed tours. "We are an active player in the tourism branch. Now our goal is to package interesting examples of the history and present of Finnish women in an accessible way. At best, we can inspire women coming from different countries and backgrounds to see new opportunities in their own operating environment and offer examples of solutions towards an equal life," says Päivi Viherkoski, Development Director of the Serlachius Museums.
Everyday innovations in content, and paths to equality
Tailored tours aim to offer role models and examples through selected themes including, for example, health, equality, everyday innovations, and women distinguished in art, design and architecture.
Economic equality is better in Finland than in many countries of the world, and Finland has had a high female employment rate for decades. By supporting parenthood, it has been possible to combine motherhood and working life well, by international comparison. Finland's maternity care system is considered throughout the world to be an interesting and respected model.
The everyday innovations theme presents innovations and inventions by Finnish women that are widely used in Finland and make everyday life easier. The contents of the theme may feature both a kitchen drying cabinet and a Lunette mooncup, or maternity-related inventions ranging from a birthing chair to a pregnancy app.
Some of our everyday saviours are derived from the actions of women in past decades: strong women have created the foundations for, among others, the Mannerheim League for Child Welfare and the Martha Organisation, which continue to support the everyday lives of Finns.
Inspiration from wellness services and fashion success stories
The goal is to bring women together around subjects of common interest. These include, for example, nature-related handicraft and wellness services and products. In the field of fashion in Finland, there are numerous examples of the bold business ventures of strong young women, in addition to creators of world-class lifestyle fashion. History offers interesting accounts of Finnish pioneering women in the fields of art and science: visual artists, architects and designers.
"We offer information, instruction and peer support, and inspiration for new solutions, even though solving social, historical or structural shortcomings is by no means solely the responsibility of women. We are bringing new content to tourism. Our tailored themed tours also, of course, offer different target groups pure pleasure, short periods of relaxation, and pampering – among women," says Viherkoski.
For further information, please contact
Päivi Viherkoski, Development Director, Serlachius Museums, +358 (0)50 352 2567, paivi.viherkoski@serlachius.fi
The Serlachius Museums are open:
in the winter season, 1 September–31 May, from Tuesday to Sunday, 11 am–6 pm.
in the summer season, 1 June–31 August, every day 10 am-6 pm
Visiting addresses:
Serlachius Museum Gösta, Joenniementie 47, Mänttä
Serlachius Museum Gustaf, R. Erik Serlachiuksen katu 2, Mänttä
Serlachius Museums in the social media:
https://facebook.com/serlachius
https://twitter.com/serlachius
https://instagram.com/serlachiusmuseums
https://youtube.com/serlachiusmuseot
https//linkedin.com/company/serlachius-museot
Photos above:
Helene Schjerfbeck, Self Portrait, sketch, 1915, watercolour and charcoal drawing, Gösta Serlachius Fine Arts Foundation. Photo: Teemu Källi
Babies at the maternity clinic of the Tuberculosis Association. A baby being vaccinated in 1961. Photo: UA Saarinen. JOKAUAS2_7675:3/Journalistinen kuva-arkisto JOKA.
Päivi Viherkoski, Development Director of the Serlachius Museums.
MP Alexandra Gripenberg speaks in parliament. The picture is from 1907 to 1909. Photo: Atelier Regina. HK19690305:362/Historian kuvakokoelma
Meeting at the Serlachius Art Sauna. Photo: Sampo Linkoneva.
Women's fashion in 1948. Photo: UA Saarinen. JOKAUAS2_136:3/Journalistinen kuva-arkisto JOKA